What is the village elder?
Edit
The village elder will be the first player who reaches the final tutorial in his/her village. If more than one player reaches the final tutorial at the same time, the one who has lived in the village the longest becomes the Village Elder.
How can you see who the Village Elder is?
Edit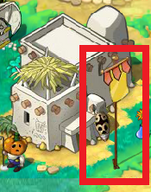 This can been seen at the flag next to the house of the Village Elder.
You can also see it when you move your mouse over the player.
What happens when the Village Elder leaves?
Edit
If the Village Elder leaves he or she can choose a new Village Elder. If the Village Elder leaves without choosing a new Village Elder of disappears due inactivity, the person who reached the tutorial first will become the new Village Elder within a few hours.
What can the Village Elder do?
Edit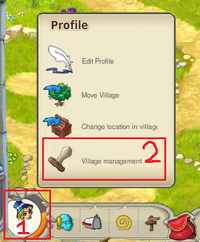 Change the name of the village.
Set the minimum level new villager has to be.
Transfer their duties to another villager.
To do this, click on your character and then on Village management.
After you clicked on Village management, you see the menu screen below.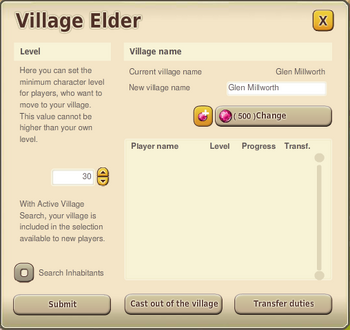 Cast out of the village
Edit
The Village Elder also has the option to kick a user from the village by selecting his or her name and select the option "Cast out of the village". The Elder can choose to leave a message for the kicked user to explain the action.
Search inhabitants
Edit
Needed content