Introduction
Edit
Every player is given a Pet Dragon when they begin the game.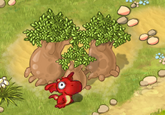 This Dragon will live in the Dragon Lair that the player will build in one of the construction spots around their home field. There are several Achievement awards that players can earn for upgrading their Dragon.
Take a moment to vote for your favorite dragon type here!

The Dragon does not need to be fed on any schedule, but it will need to be fed in order to grow.
Dragon food
can be purchased in the
Sorcerer's Corner Shop
, won in the games at the
Carnival Area
, or made by using
Magical Mushrooms
you find.
Note: Players may not feed their dragon while it is racing , so if you are in the process of upgrading, take this into consideration before joining a medium or long race.
As the Dragon grows, it will get to the point where it is too big for its home. At that point, you must complete the next Lair upgrade before you may feed and upgrade your Dragon again. See the Dragon Lair page for full information on your Dragon's home.
Decreases the time required to vaporize a plot in player's field.
Increases the number of fairies living in your field, thus speeding up harvests.
Morphology
Edit
All dragons begin in their basic form, but the player may win spells to change their dragon into one of three other species.
The Dragon Morphology spells are:
For new players, the maximum level for the Dragon is 26. Once a player transforms, the new maximum is 27.
| Level: | Lair: | Portions: | Vap. Bonus (%)  | Red: | Frog: | Female: | Grace: |
| --- | --- | --- | --- | --- | --- | --- | --- |
| Egg | 1 | | | | Frog | | |
| 1 | 1 | 8 | 7 | | Frog | | |
| 2 | 1 | 32 | 10 | Same as level 1 | Same as level 1 | Same as level 1 | Same as level 1 |
| 3 | 1 | 72 | 13 | | Frog | | |
| 4 | 1 | 128 | 16 | Same as level 3 | Same as level 3 | Same as level 3 | Same as level 3 |
| 5 | 2 | 200 | 20 | | | | |
| 6 | 2 | 288 | 23 | Same as level 5 | Same as level 5 | Same as level 5 | Same as level 5 |
| 7 | 3 | 392 | 26 | | | | |
| 8 | 3 | 512 | 29 | Same as level 7 | Same as level 7 | Same as level 7 | Same as level 7 |
| 9 | 4 | 648 | 33 | | | | |
| 10 | 4 | 800 | 36 | Same as level 9 | Same as level 9 | Same as level 9 | Same as level 9 |
| 11 | | 968 | 39 | Same as level 9 | Same as level 9 | Same as level 9 | Same as level 9 |
| 12 | | 1,152 | 42 | Same as level 9 | Same as level 9 | Same as level 9 | Same as level 9 |
| 13 | | 1,352 | 46 | | | | Grace |
| 14 | | 1,568 | 49 | Same as level 13 | Same as level 13 | Same as level 13 | Same as level 13 |
| 15 | | 1,800 | 52 | | | | |
| 16 | | 2,048 | 55 | Same as 15 | Same as 15 | Same as 15 | Same as 15 |
| 17 | | 2,312 | 59 | Same as 15 | Same as 15 | Same as 15 | Same as 15 |
| 18 | | 2,592 | 62 | Same as 15 | Same as 15 | Same as 15 | Same as 15 |
| 19 | | 2,888 | 65 | | | | |
| 20 | | 3,200 | 68 | Same as 19 | Same as 19 | Same as 19 | Same as 19 |
| 21 | | 3,528 | 72 | | | | |
| 22 | | 3,872 | 75 | Same as level 21 | Same as level 21 | Same as level 21 | Same as level 21 |
| 23 | | 4,232 | 78 | Red | Frog | | |
| 24 | | 4,608 | 82 | Same as level 23 | Same as level 23 | Same as level 23 | Same as level 23 |
| 25 | | 5,000 | 85 | | | | Grace |
| 26 | 8 | 5.408 | 88 | Same as 25 | Same as 25 | Same as 25 | Same as 25 |
| 27 | 9 | | | | | | |