Basic Information
Edit
The player's Magic Lab is one of the four buildings that each player has at their home. This building generates the Mana, which you need to cast spells.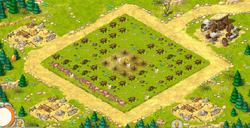 When a player first starts they are provided three (3) constructions plots surrounding their home field --See Photo--. The fourth spot is the Store House which is always at the top right hand position. The player is free to choose which of the remaining three spots to place their Magic Lab. The other two will be the
Magic Circle
and the
Dragon Lair
. The player's goal is to upgrade this building so they can furnish it with larger
Laboratory Items
bought in the
Sorcerer's Corner Shop
. These items enhance
Mana
production, plant yield or gained
experience points
. There are several
Achievement awards
that players can earn for upgrading their Magic Laboratory.
For new players, the maximum level for the Magic Circle is 25. Once a player transforms, the new maximum is 28.
The Lab also has a mysterious back door. When you reach level 12, you can click on this back door to open it, revealing your own private alchemy room where you can play the Alchemy Quests. When you reach level 12, your door changes from: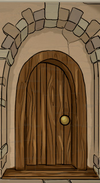 to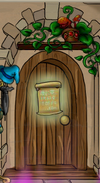 The gold and time it takes to upgrade the laboratory is calculated with:
Cost = 50 + 550 * (Lvl - 1) + 1000 * (Lvl - 2) * (Lvl - 1) / 2
Time (s) = 175 + 2275 * (Lvl - 1) + 4200 * (Lvl - 2) * (Lvl - 1) / 2
| Level | Cost | Time | Photo |
| --- | --- | --- | --- |
| 1 | 50 | 02:55 | |
| 2 | 600 | 40:50 | |
| 3 | 2.150 | 02:28:45 | Same as 2 |
| 4 | 4.700 | 05:26:40 | Same as 2 |
| 5 | 8.250 | 09:34:35 | Same as 2 |
| 6 | 12.800 | 14:52:30 | |
| 7 | 18.350 | 21:20:25 | Same as 6 |
| 8 | 24.900 | 01:04:58:20 | Same as 6 |
| 9 | 32.450 | 01:13:46:15 | Same as 6 |
| 10 | 41.000 | 01:23:44:10 | |
| 11 | 50.550 | 02:10:52:05 | Same as 10 |
| 12 | 61.100 | 02:23:10:00 | Same as 10 |
| 13 | 72.650 | 03:12:37:55 | |
| 14 | 85.200 | 04:03:15:50 | Same as 13 |
| 15 | 98.750 | 04:19:03:45 | Same as 13 |
| 16 | 113.300 | 05:12:01:40 | Same as 13 |
| 17 | 128.850 | 06:06:09:35 | |
| 18 | 145.400 | 07:01:27:30 | Same as 17 |
| 19 | 162.950 | 07:21:55:25 | Same as 17 |
| 20 | 181.500 | 08:19:33:20 | |
| 21 | 201.050 | 09:18:21:15 | Same as 20 |
| 22 | 221.600 | 10:18:19:10 | Same as 20 |
| 23 | 243.150 | 11:19:27:05 | Same as 20 |
| 24 | 265.700 | 12:21:45:00 | |
| 25 | 289.250 | 14:01:12:55 | Same as 24 |
| 26 | xx | yy | |
| 27 | xx | yy | |
| 28 | xx | yy | |