The Alchemy Quests are available from level 12 and up. You will have to buy the
Alchemy Set
and Glass Vials from the
Sorcerer's Corner Shop
, then you can access and complete the quests in your Magic Laboratory. This is a one time purchase as you do keep the set when you transform.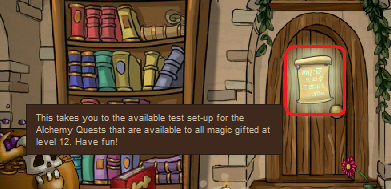 Categories of Alchemy Quests
There are five categories of Alchemy Quests with each category containing ten recipes. Once you have completed all ten recipes in a category, you can choose an Alchemy Quest trophy or Butterfly Puzzle piece as a reward. These can be used as a decorative garden items. The category then refreshes and you will have 10 more recipes to complete. There are more than 10 possible quests for each category, so you may not get the same 10 quests after a refresh.
There are ten trophies and one Butterfly Puzzle piece to collect for each category. Each category has its own distinct colour of trophy.
Initially, only Category A is accessible. To unlock each subsequent category, you must complete some Research by supplying a specified number of different types of plants. The Research screen is accessible by pressing the yellow arrow pointing to the right from the recipe menu screen for the most difficult category you have accessed so far. 
The following links are to help pages where you can find solutions to individual quests.
​
​Once per day you can complete one quest for free. They are of a random difficulty level and give a reward of Miragic and Experience dependant on the difficulty.
Should you wish to complete more than one Daily Quest in a day, additional Daily Quests can be purchased for 3 Rubies each. However, since you can do as many quests from Categories A, B, C, D and E as your stock of Mana and plants will allow, without having to spend Rubies, few players find buying a Daily Quest a wise purchase.
Each day there is a random chance that a player's Daily Quest will receive be a Golden Daily Quest. These Golden Quests give the same Experience and Miragic points that a standard Daily Quest would, but also award the player with a special bonus table for their Magic Laboratory. You will know you have a "Golden" quest when your scroll icon appears like the one shown here. You can read more about these quests on the Golden Quest Tables page.

Each Alchemy Quest, regardless of the difficulty level, requires one (1) Glass Vial. These can be purchased at the
Sorcerer's Corner Shop
in the
City
for 200
Gold
each.